As the weather heats up every day, there is never the worst time to get yourself a Nasco standing fan for your household.
A standing fan is a standard household appliance that is preferred by most people since it can be adjusted to move up and down as well as oscillate up to 180 degrees or stay steady pointing in one direction. Most standing fans include three-speed settings as well as an on/off switch labelled "0." To get a better cooling experience, these fans are normally placed in a corner of the room or in an advantageous location.
How Standing Fans Work
A standing fan is powered by an electric motor. A motor is made up of a coil of wire wrapped around a metal centre that produces rotational motion when electricity is passed through it. A hub/cap connects the motor to the metallic/plastic blade that circulates the air. These blades are shaped on an angle to help carry air from one point to another. The control box has four switches: three for speed control and one for turning on or off the fan.
The extensible pole can be used to raise or lower the fan's height.
AdvantageS Of Standing Fans
They are very easy to assemble also put them away when you are not using it as you can separate the components easily.
You can move them around the house easily and put them in an advantageous location.
Due to its extendable pole, you can adjust its height according to your preference.
It is cheap and you can assemble it yourself.
They're lightweight and can provide cool air over large area.
They can be easily cleaned.
Prices Of Nasco Standing Fans In Ghana
The Nasco standing fans listed below have their prices attached to them.
3 LEGS STAND FAN, 3 MODES, 5 BLADES, BLACK
Price: Ghc 309.00
Nasco 16″ Standing Fan (7.5HR TIMER, 55w, remote, timer)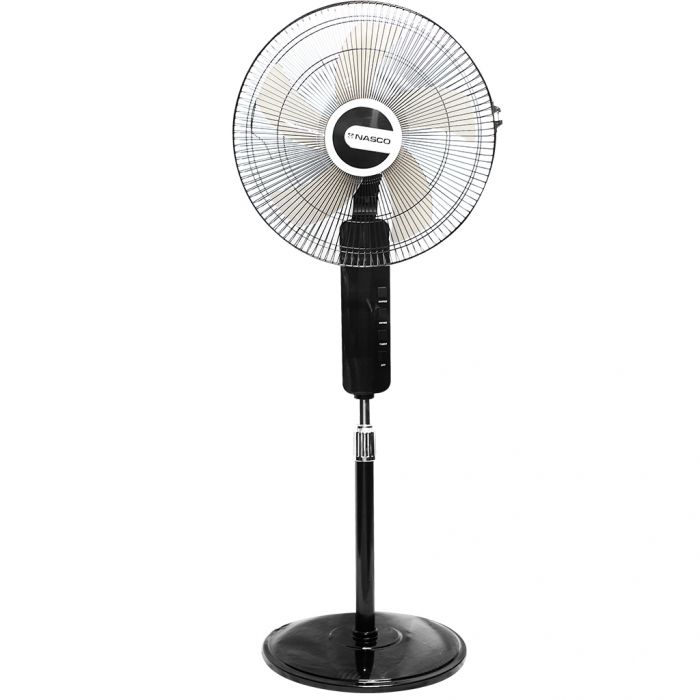 Price: Ghc 219.00